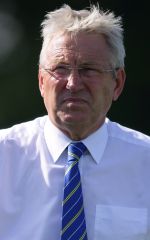 By Alex Hoad
New Dover boss Chris Kinnear will run the rule over his new squad before deciding whether to bring in reinforcements for a promotion push.
Kinnear (pictured) – who left Margate to take over from the sacked Nicky Forster at the weekend – admitted he "knew what was going on" at Crabble this season but pledged to learn more about the squad he's inherited before going into the transfer market.
He said: "I knew they had started a bit slow but then gone on a good run but have lost their last five. I'll ask people what has been happening.
"I have watched a few Dover games this season. I watch a lot of games and still know a lot of supporters. They've got some talented players. The players are well looked after and how we get on is going to be about those players, although we have to select the right ones.
"We are all in it together – the players, staff, supporters and directors. We all need to be pulling in the same direction."
Dover fans have been frustrated by results at Crabble in the past few seasons and Kinnear knows it is important to entertain the home fans.
He said: "We want the home fans to be proud of the team and to bring their friends along. It's important to perform in front of your own fans because not everyone will travel away but you have to be careful not to force games because you can get punished.
"Hopefully we can get it right and turn Crabble into a fortress."