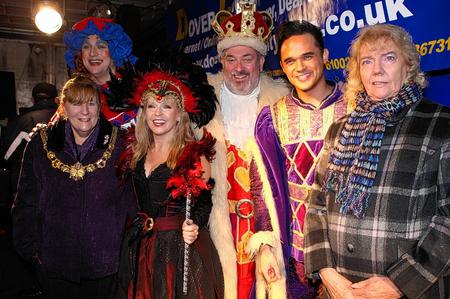 Umbrellas were the order of the day for the switch-on celebrations for Dover's Christmas Lights on Saturday.
Rain throughout the day - which became heavier the nearer it got to the actual switch-on time - caused people to take shelter wherever they could.
A smaller-than-usual, but nonetheless enthusiastic crowd gathered in the Market Square to see panto stars Toyah Willcox and Gareth Gates help Dover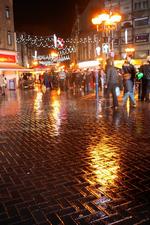 Mayor Cllr Anne Smith and deputy Mayor Cllr Ronnie Philpott light up the town for the festive season.
The Bettesteiner Footstompers Oompah Band sought refuge in a shop doorway as they played their music, the Dover Air Training Corps band braved the weather as did the Vista Twister cheerleaders to put on their display, and other singers and dancers did their best in the wet conditions.
Members of Dover Operatic and Dramatic Society also went ahead with their presentation.
Slightly more fortunate were those who were organising workshops in a former shop in Biggin Street and at Dover Museum, while Harrison's traditional fairground amusements, including a roundabout and test-your-strength game, helped brighten up the day for others.
Full story and more photos in this week's Dover Mercury.