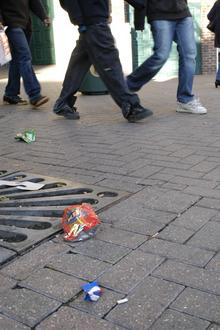 by Graham Tutthill gtutthill@thekmgroup.co.uk
Just three days before a private company's enforcement officers were due to tackle litter and dog fouling in Dover, Deal and Sandwich, the district council has scrapped the scheme.
The decision came within hours of Shepway Contract cancelling its contract with the same company, XFOR Local Authority Support.
Dover council has not given any reason for its decision, but Shepway said they terminated their contract after investigating the company's current status, following reports that it was in administration.
It has now been revealed that administrators have sold Aqua Las, formerly XFor Local Authority Support. The company, which had an annual turnover of £500,000, owed Revenue and Customs £160,000.
In a statement issued today, Dover District Council said it was not prepared to enter into a contract with XFor Local Authority Support Limited, Aqua Las Limited or any other company within the XFor Group.
"We would stress that there has been no financial outlay from Dover District Council as no payments have been made to XFor.
"The launch of the new campaign to tackle the problem of litter and dog fouling will continue as planned on February 1, using both the council's own resources and those of partner organisations and we will now be looking at other ways of strengthening this team."
Cllr Nicholas Kenton, the council's cabinet member for environment, said: "Whilst it is disappointing that we have not been able to conclude an agreement with XFor, the Council remains committed to taking a tough line with those who choose to drop litter or allow their dog to foul our streets."
XFOR enforcement officers were due to start work this Friday issuing fixed penalty notices to those who drop litter or fail to clear up after their dogs. The fines would have been £50 and £75, with XFOR keeping £45 for each ticket issued.
XFOR had said their officers would be taking a zero tolerance approach to their work, but Cllr Kenton had said fines would not be imposed on people who dropped litter accidentally.
The Mercury has asked XFOR for a comment, but has not received anything yet.
Full story in this week's Dover Mecury and East Kent Mercury.