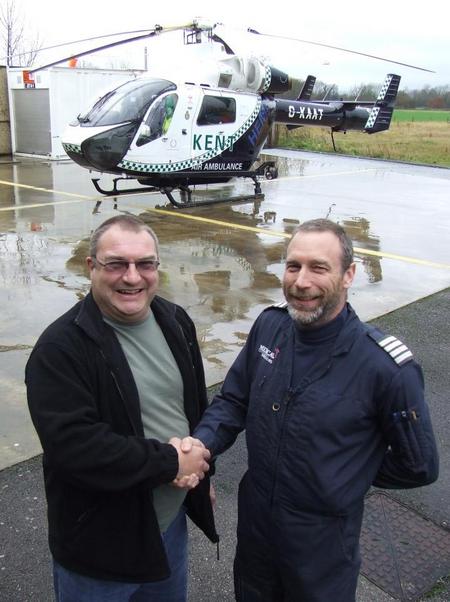 A River cyclist who was critically injured in a road crash while training for a charity bike ride in aid of the air ambulance has been reunited with the pilot who helped save his life.
Father-of-three Peter Fletcher, 51, suffered multiple injuries after a car collided with him on the A2 at Barham.
The air ambulance was called and he was given emergency treatment at the road-side by two doctors and a critical care paramedic.
The pilot, Captain Kevin Goddard, then flew Peter to a major trauma centre in London and he spent a total of six months in hospital before he was finally allowed home.
Now, Peter has met Kevin for the first time since the collision as he kindly donated £3,466 to the life-saving charity.
"Meeting Kevin and his colleagues gave me the opportunity to express my sincere thanks for saving my life," said Mr Fletcher.
"Since the accident I have been involved with raising money for the air ambulance which has added to the positives in my recovery. I am now committed to supporting the charity in the future."
Mr Fletcher was training for a 450-mile bike ride from Land's End to Dover when the collision happened in March.
In June, his family and friends including brother-in-law Ian Sheppard honoured his pledge to raise funds for the air ambulance by cycling from the helicopter base at Marden to Fowlmead Country Park.
Mr Fletcher has made a good recovery and is now walking, driving and back at work as an account manager for Invensys Operations Management in Crawley, West Sussex.
Keep up-to-date with news via the Dover Mercury Facebook page and Twitter.