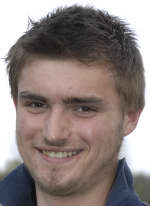 By Kevin Redsull
Deal rower Luke Moon flies out to Australia in the first week of January to represent Great Britain in the Australian Youth Olympic Festival.
The 19-year-old former Walmer School pupil (pictured) has been selected in a 20-strong GB team who will join 1,700 athletes from 30 different countries in the five-day festival in Sydney from January 16-20.
Moon, who has already represented Britain in the world junior rowing championships, said: "I was pretty confident I would get picked (for Sydney) but I still had to go through all the selection process and I'm looking forward to it."
Moon's specialist event is the single sculls but he has been picked to row in three events – the single sculls, quadruple sculls and the eights.
He is a member of the Tideway Scullers School in Chiswick, where he lives in club accommodation while studying sports science at St Mary's University in Twickenham.
Moon's long-term goal is to follow in Campbell's footsteps, by representing Britain in the 2016 Rio Olympics but next year he will be focusing on the Youth Olympics and then winning selection for the world under-23 championships in Austria in August.
But he will be back home for a few days over Christmas to spend time with his parents, John and Tracey Moon, who live in The Marina.