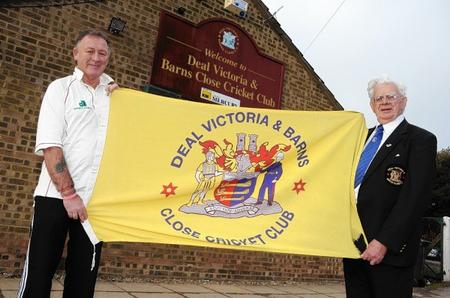 A Walmer sports club that uses the Deal Borough Council crest as its coat of arms has been standing firm for years against talk that no other organisation is allowed to use it.
Deal Victoria and Barns Close Cricket Club have been using the emblem since 1994 after receiving a letter from Deal Charter Trustees which looked after town affairs before the town council was formed in 1996.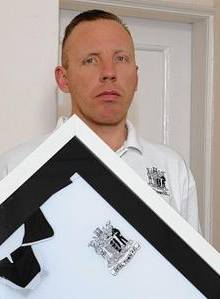 The crest is stitched into ties, blazers and on a large flag which flies proudly over the club's pavilion in Court Road, Walmer.
Deal Town Football Club has been told that it, like Deal Town Council, must stop using the crest as its logo – potentially costing thousands to replace on kits and merchandise.
The message had been passed on to the club's chairman Dayle Melody - pictured right - by town clerk Lin Dykes.
Mrs Dykes had been told the news from the College of Arms which originally gave the crest the letters patent on behalf of the Queen.
But Fred Wilson, secretary of Deal Vics, said the club has known for years but continued using the logo without any enforcement from the college.
"In 1994 we decided we were going to have it," he said.
"We got a letter from the charter trustees saying you can use the emblem of Deal as your coat of arms. Just after that they found out that it hadn't been registered with the college who register them."
He added: "I think there are quite a lot of people who used to use the crest which always had the Deal coat of arms on it.
"People should be pleased to see that so many organisations are proud to have the coat of arms of Deal."
"i think there are quite a lot of people who used to use the crest which always had the deal coat of arms on it" – deal vics secretary fred wilson
Dayle Melody, chairman of Deal Town FC, has now decided to keep the crest as the club's logo.

He has received lots of support from fans from Deal – including one who heard the story in Liverpool – who want him to stand firm.

He has been asked to issue a statement to the Kent County Football Association. "I received emails from two solicitors who advised me to do nothing unless I receive a letter from a solicitor," said Mr Melody.

He acknowledged the support the club has received from the town council. But said he wished the authority had "stood firm with us as a community".

The town council has accepted the crest was created for the sole purpose of Deal Borough Council. Since the borough council was wound up in 1974, the town council believes the crest cannot be used.

The Deal Town Council logo, designed by Jenny Marshall, has now replaced the crest on letterheads, councillors' ties and street signs.