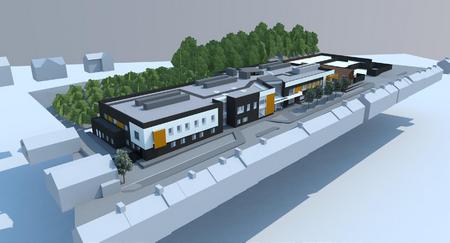 by Graham Tutthill
The facilities that will be provided in Dover's new hospital have been confirmed this week after the submission of a planning application.
The two-storey building is to be built on the site of the car park at the existing Buckland Hospital which will be demolished.
The physiotherapy department will be converted into offices and an energy centre.
Parking will be provided for 160 vehicles.
The new hospital will have an outpatients department, minor injuries unit, physiotherapy department, activities of daily living, a renal dialysis unit, day hospital, pharmacy, ante-natal and maternity day care services, pathology testing unit, radiology department with x-ray and ulstrasound facilities and what was described as "ambulatory care" for children and adults.
There will also be a hard-standing for a mobile MRI scanner.
Land beyond the car park which is no longer needed will be sold.
The plans also include a in drop-off point for cars and ambulances, close to the hospital entrance.
"East Kent Hospitals' vision is to be known as one of the top 10 hospital trusts in England and the Kent hospital of choice for patients and those close to them," said a spokesman.
"The trust's aims are to provide about 85% of all outpatient services for Dover district from healthcare facilities located in Dover. "
Full story in this week's Dover Mercury, out today.