Boxing Day dippers have again braved the December waters in their hundreds - all in the name of fun... and charity.
When the countdown began at 11am in Deal, Smurfs, Pink Ladies, rugby players and pyjama-clad dippers raced into the chilly sea to make a festive splash.
This year's chosen charity was POTS, an organisation that raises funds and awareness for people suffering the rare postural orthostatic tachycardia syndrome.
Georgia Kardamitsis, who has the condition, banded together with a group of friends and family - all in their PJs and dressing gowns before crashing into the waves.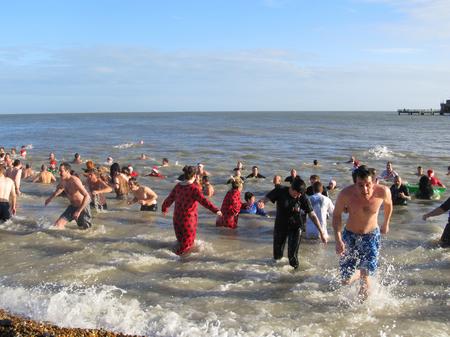 She said: " anyone who has this condition and can prove it will be helped with the money we raise. It will help with paying for trips to hospital or buying a TENS machine to help with pain."
Father and son Smurfs Andy Littler and his son Ryan Littler-Laing decided to raise cash for Help 4 Heroes because it is a charity close to Andy's heart.
"I used to be in the services and I have known a few friends to die," said Andy, an ex Army air corps soldier.
Boxing Day dips were also held in Dover and Folkestone.