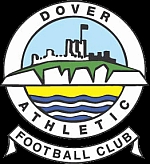 by Kevin Redsull
Daryl McMahon only lasted 38 minutes of Dover's victory over Truro last Saturday but in that time, the midfielder confirmed what Chris Kinnear already knew.
Whites' new manager said: "We missed Daryl after he went off because he's a quality player and it was worth getting 35 minutes or so out of him."
McMahon, who joined Dover from Eastleigh last September for an undisclosed fee, has been suffering with a metatarsal problem in his foot and is now waiting for the results of an X-ray.
He said: "I have had this injury for about three weeks and I have had to drop out of training two or three times.
"It was touch and go whether I would play against Truro but we were down to the bare bones and so I had to go out and play for as long as I could."
He added: "It was good to get the three points after the five defeats in a row we'd had, although it was a little bit closer in the end than we wanted it to be.
"Before the game, the manager said to us, 'Just go out there and enjoy the game, work hard together as a team and try to get the ball forward as quickly as we can.'
"We did that and it made for a great start for Chris."
Do you think McMahon has impressed since his arrival at Crabble? Have your say below.