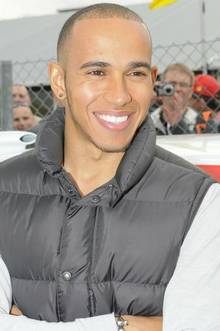 by Paul Hooper
A drunken son who swiped his mum's car keys before embarking on a destructive joy ride has landed himself in prison - after she shopped him to police.
Rookie driver Gary Smith, 21, wrote off the stolen Peugeot and three other cars after swiping the keys from her handbag and racing off through the quiet streets of Adisham.
Canterbury Crown Court heard he hit one car so hard he flipped it onto its roof, later telling police: "I felt like Lewis Hamilton!" (pictured right)
Smith initially escaped arrest after denying any responsibility, but his despairing mum called police after he confessed all in a letter.
He appeared in court and admitted aggravated vehicle taking and driving without a licence and insurance.
Prosecutor Wayne Cleavor told how Smith had been subjected to ridicule because he hadn't passed his driving test.
He took his mum's keys during an event at Adisham village hall and drove along The Street in April last year after drinking.
Mr Cleavor said: "After taking the car Smith hadn't driven far before he collided with a Skoda, which had been parked in a bay for the disabled – that was written off at a cost of £4,000.
"But he just continued on his way down The Street and collided with a Nissan – striking it with such force it flipped onto its roof," he added.
"i felt like lewis hamilton!" – rookie driver gary smith
Even then, Smith carried on, hitting a Ford Ka, causing £945 worth of damage and then writing off his mum's Peugeot at a cost of £6,000.
Despite the havoc, Smith was neither breathalysed nor arrested at the scene after claiming someone else was responsible.
"Your driving posed a clear and present danger to other road users and you showed a lack of concern to others."
Smith's car struck a car almost immediately after setting off in Adisham – but he didn't stop and instead drove faster.
Judge Simon James said: "Your speed was such that when you hit another car, you struck it with such force you tipped it onto its roof!
"It was, quite frankly, only through miraculous good fortune that someone was not seriously injured by your selfish and reckless behaviour – especially as you had a passenger with you at the time."
He said that Smith, of St Martins Emmaus, Archcliffe Fort, Dover, had tried to blame others after the crashes, adding: "I find it somewhat difficult to conclude that your admissions are accompanied by genuine remorse and contrition.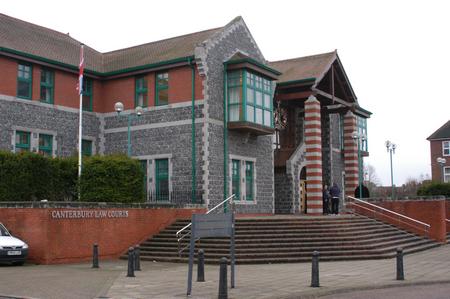 "Anyone who drives on a public road and puts innocent people at risk crosses a line and must expect to go to custody."
He jailed him for 12 months and disqualified him from driving for two years.