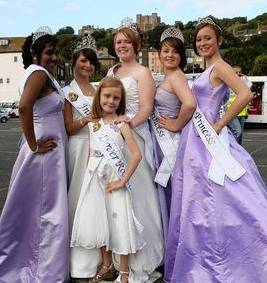 by Graham Tutthill
Dover will have a carnival again next year - and it will be much bigger and better than this year's.
That's the promise from John Trickey, chairman of Deal, Walmer and Kingsdown Regatta Association, who was called in at the last minute to ensure that Sunday's procession went ahead.
"It was a lovely little carnival with a lot of support," Mr Trickey told the Mercury this week. "We put it together in just three or four weeks, and when I saw the crowds in the Market Square I knew that all the hard work had been worthwhile."
Not even Miss Dover, Sofie Stroud, and her princesses had a float to transport them around the shortened route. But they put on brave and smiling faces as they walked, sang and danced their way around.
A handful of visiting carnival courts, two majorette groups, the Ramada Hotel with a Christmas theme float, the Blackfish Academy advertising their next production, a group of music teachers and the obligatory fire appliance made up this year's procession.
"The carnival was small but it was superb," said Mr Trickey."
Mr Trickey has twice helped to get Dover carnival back on its feet but each time it has again hit problems. Now he is prepared to do it all again, but says he won't walk away until he knows its future is assured, and it is in safe hands.
Full story and more photos in this week's Dover Mercury.
Staff at the Ramada Hotel, Whitfield, chose Christmas as the theme for their float at Dover Carnival.

Music was the theme chosen by this group for their entry at Dover Carnival.

Ceri Allen was among those taking part in the carnival.

Members of the Blackfish Academy took the opportunity to promote their next show, Dracula the Musical.

Christmas came early at Dover Carnival, courtesy of the Ramada Hotel.
Dover's small carnival