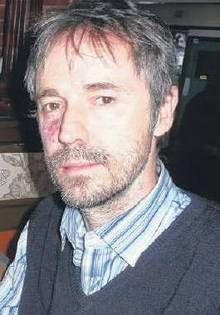 by political editor Paul Francis
Former News of the World journalist Paul McMullan is no longer standing for UKIP in the county council election next week.
Mr McMullan had declared he would be contesting one of the 84 seats up for grabs for the party, but is now standing instead as an independent for a seat in Dover currently held by Labour.
And it is tax-free beer rather than doing away with meddling EU bureaucrats that is the cornerstone of his new independent manifesto.
The former tabloid journalist (pictured right) was among those who gave evidence to the Leveson Inquiry on phone-hacking allegations and offered a strong defended the practice.
Now the landlord of the Castle Inn, in Dover, is running for election under the banner of "Save Village Pubs", a pledge to axe tax from beers that contain four per cent alcohol or less.
Mr McMullan did not get the backing he needed to stand as a UKIP candidate from party managers.
It is understood they felt his presence could be a distraction from the party's other candidates.

Mr McMullan, 45, had initially said he was inspired to put himself forward as a UKIP candidate after watching Diane James, the UKIP candidate who beat the Tory candidate in the Eastleigh by-election, when she appeared on the BBC television programme Question Time.
But it seems his new-found affection for UKIP was not reciprocated by party officials, who contend they could be poised to make a breakthrough in Kent at next week's poll.