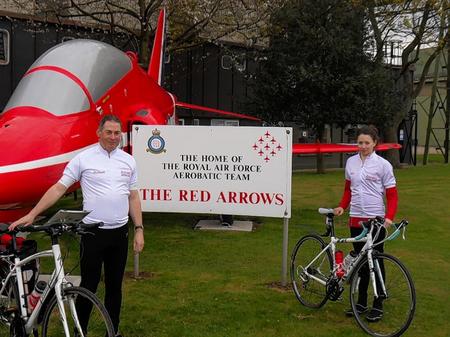 by Graham Tutthill
A father and daughter from Kingsdown who swapped the skies for the open road have completed their 281-mile cycle ride from Manston airport to RAF Scampton, home of the Red Arrows.
And they described the trip as "a mixture of misery and elation".
Robert Brown, 50, and 16-year-old Amy have raised some £2,000 for the Jon Egging Trust, set up in memory of the Red Arrows pilot who lost his life last summer.
Mr Brown is a qualified pilot at TG Aviation, based at Manston Airport, and Amy is also training to beconme a pilot.
But they left their plane behind and took to the road for the cycle ride which took them six days to complete.
When they arrived at RAF Scampton they were shown the Hawk that carries the names of Red Arrows pilots Jon Egging and Sean Cunningham on either side of the cockpit and Amy was presented with a signed limited edition print of the aircraft and display team.
"We know the sacrifice of a week in the saddle and the sentiment of what we did was welcomed by both the Red Arrows and Jon Egging Trust," said Mr Brown.
"I think what kept us going when it was really tough was knowing the sacrifice that Jon Egging had made and that Amy was doing something well outside of her comfort zone to help other youngsters.
"It was hard work but also fun and we enjoyed each other's company. When I look at the map I continue to be amazed at the distance we covered. I'd definitely do it again but at a warmer time of the year!"
The Jon Egging Trust aims to give young people from disadvantaged backgrounds new opportunities to help them achieve their potential.
Charles Buchanan, chief executive of Manston Airport, said: "We are very pleased to have supported Robert and Amy in achieving their goal. The Red Arrows are very important to Manston so last year's accidents affected us all."
To donate to The Jon Egging Trust visit www.brownsbikeride.co.uk.