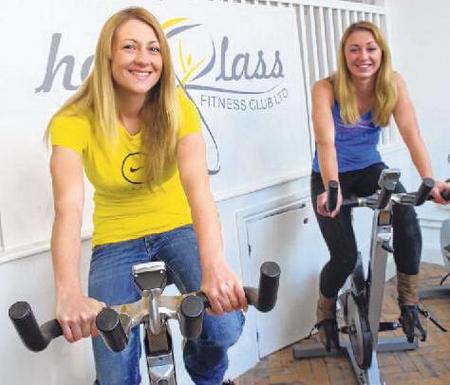 by Graham Tutthill
Two Dover sisters will see their dream come true this weekend with the opening of a new fitness studio in the town.
Mayor Cllr Anne Smith will perform the opening ceremony at Hourglass Fitness in Ladywell on Sunday, and then for the rest of the month Katie and Chloe McFarnell will be give people the chance to try the facilities free.
The club has been created in the ground floor of the former technical college building at the back of the Town Hall.
Katie and Chloe, who were born in Dover and went to St Mary's Primary and Dover Girls' Grammar Schools, have set up the members-only club for group exercise classes, and plan to hold 60 classes throughout the week.
They came up with the idea for the club in January. Katie's boyfriend, Matt Weston, helped them plan the building and redevelopment work, which has been carried out to fit in with the historic nature of the building.
A fully-equipped aerobics room, spin studio and mind and body studio – where yoga and pilates will take place – have all been created together with changing rooms, an impressive reception and refreshment area, and a members' lounge.
The project has also created a number of new jobs, with a team of instructors being recruited.
Classes will start at 6.30am and continue during the day, with a session from 5-9pm.
Peak and off-peak membership is being offered from 16 upwards, but there will also be Zumba classes for children, sessions for parents with pre-school children, and classes for the over-60s.
The club can be contacted on 01304 212444, via Facebook or e-mail info@hourglassfitnessclub.co.uk