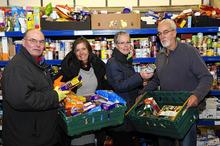 Don't go hungry this Christmas is the message from the newly-created Deal Area Food Bank, which has just secured charity status for its organisation.
Donations of tins and non-perishables can now be accepted at Deal Town Hall, a list of distributors for the vouchers is being circulated and exchanges for food have started.
Deal foodbank chairman Alan Thompson said: "We are now getting food out to where it is needed, so a big thanks to Cafe Eden in Mill Hill and Trinity Church in Union Road.
"Our volunteers have joined the foodbank with enthusiasm and commitment and thanks goes to all supporters who have enabled us to open the service.
"We will see new voucher distributors coming on board throughout January so DAEF reach is increased. We want to make sure that anyone in our community who experiences short term financial difficulties through unexpected bills, issues with benefits, pensions or wages can feed themselves/family."
* For full story see East Kent Mercury, December 20.