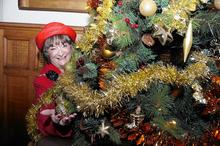 Free festive fun with music, stories and puppets is on offer on Sunday at Deal Town Hall, as well as a chance to help the Deal Area Foodbank.
Deal Mayor Cllr Marlene Burnham has been putting the finishing touches to the Christmas tree in the council chamber for the two-hour event, starting at 2pm.
Admission is free and Deal Town Council is inviting people to make a donation for the foodbank, from pasta to puddings or cash in a collection bucket.
The event has a mix of traditional and modern Christmas music, shanties, stories and shadow puppets provided by the Smugglers Singers, The Vintage Ukele Band, Emma Ford and Roisin Murray.
Deal Town Council has a collection point for the Deal Area Foodbank, which provides a minimum of three days emergency food and support for those in crisis. In-date, non-perishables can be left at the council office at the town hall, open Monday to Friday 9.30am until noon. It is closed for Christmas from December 21.