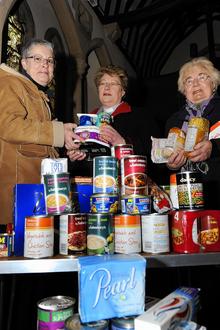 Church congregations at four village communities have been stepping up their collections of donations for the Deal Area Emergency Foodbank.
Rector of Kingsdown, Ringwould, Ripple and Sutton the Rev Cathy Sigrist was impressed at the numbers of gifts and is backing the foodbank idea for those living out of town.
She said: "If you don't know where your next meal is coming from then the Deal Area Emergency Foodbank is here to help you and is going from strength to strength.
"It is reaching out and helping individuals and families across the region, not just in the town centre."
Deal Area Emergency Foodbank started distributing early in December and is part of the Trussel Trust, a Christian charity aiming to empower local communities to combat poverty.
* For full story and to find out how to donate food see the East Kent Mercury, February 14.