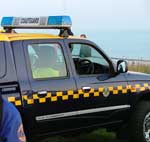 The skipper of a French racing yacht has been ordered to pay more than £13,000 after travelling the wrong way in shipping lanes off Dover.
Marc Guillemot refused to change his route because he was trying to set a new world record for the fastest sail around the United Kingdom and Ireland.
The 53-year-old forced several ships to alter their course to avoid crashing into his yacht, the Safran, as he travelled 28 nautical miles in the wrong direction.
Now magistrates have fined him £9,381 and ordered he pay £4,125 in costs.
The Safran left Lizard Point, in Cornwall, on June 6 in an attempt to beat its own record the previous year.
But Dover Coastguard spotted the yacht going in the wrong direction in the Dover Strait Traffic Separation Scheme.
Guillemot ignored messages urging him to turn around - claiming it would ruin his record attempt.
Kaimes Beasley, from Dover Coastguard, said: "The Strait of Dover Traffic Separation Scheme is one of the busiest in the world.
"Mr Guillemot was reckless in his navigation during the hours of darkness not only in the Dover Strait TSS, but also in the Sunk Traffic Separation Scheme.
"He put his crew and other vessels at significant risk in order to try to beat his previous record."
Guillemot pleaded guilty to breaching the Convention on the International Regulations for Preventing Collisions at Sea at Southampton Magistrates' Court on Thursday, December 6.