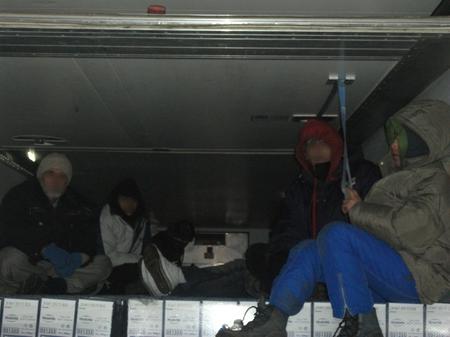 Four child stowaways have been found hidden in a refrigerated lorry in sub-zero temperatures en route to Dover.
The four were part of a gang of seven illegal immigrants rescued from the locked lorry at Dunkerque in France.
They were discovered hiding among a load of soft cheese - in temperatures of -2 celsius.
Border Force officers had spotted the door handle had been cut, but the Slovakian-registered lorry was locked.
The four children, all aged nine and 16, and one of the adults were suffering from hypothermia and taken to hospital.
If they had not been discovered, it is thought they faced another seven hours inside the truck.
The Bulgarian lorry driver was interviewed by French police, but later released without charge.
Border Force south east director Paul Morgan said: "This incident shows the desperate lengths that people will go to in their attempts to reach the UK. It also shows the complete disregard for safety and wellbeing shown by the people-smugglers who no-doubt helped get them into this lorry.
"The group had already spent several hours in sub-zero conditions when Border Force officers discovered them. They had no way of getting out.
"If the lorry had carried on unchecked then this could've had fatal consequences, especially for the children."
The five taken to hospital were later given the all-clear by doctors and were handed over to the French authorities, along with the remaining two stowaways.
The group, four Afghans and three Iranians, were found at around 10am on Friday.