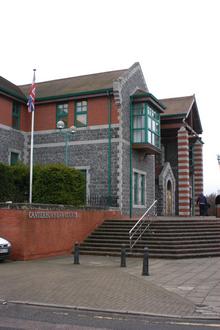 by Paul Hooper
Pizza delivery man Phillip Evenden refused to be goaded into having a street race... and found himself looking down the barrel of a pistol.
Mr Evenden had been a passenger in a car driven by a friend when they stopped at lights in London Road, Dover, last June.
Pulling up next to him was rival Connor Lawrence in his back Vauxhall Corsa who then challenged him to have a race, Canterbury Crown Court heard.
And when Mr Evenden rejected the offer, the jobless gardener produced a weapon from his car and pointed at his rival – after telling a friend he wanted to scare him.
Ian Foinette, prosecuting, said: "There had been problems between the two previously. When they arrived at the lights, the defendant began mouthing things at Mr Evenden.
"There was then some sort of challenge for a race but Mr Evenden was not interested. Lawrence then began speeding up and slowing down.
"At one point Mr Evenden saw what appeared to be a pistol in the hands of Lawrence. He, being a former Sea Cadet, knew something about weapons and thought it appeared to be realistic.
"Anyone seeing it from a short distance perhaps be forgiven for thinking it was the real thing. It was then pointed in his direction before the cars moved away."
Lawrence, of Crabble Lane, River, Dover, pleaded guilty to possessing an imitation firearm and was given a suspended jail sentence.
"this was an extraordinary stupid act…" – judge nigel van der bijl
The court heard the weapon turned out to be as toy imitation, which Lawence claimed belonged to his 12-year-old brother.
Lawrence told police he had got hold of the weapon, which was in the back of the car, after telling a friend: "I want to scare him (Evenden)."
Paul Humpherson, defending, said Mr Evenden later told police he had not been scared by the gun incident.
Judge Nigel Van Der Bijl gave Lawrence a 12-month jail sentence - suspended for two years - and ordered him to do 200 hours of unpaid work as well as pay £500 costs.
He was also given a three-month electronic curfew order to remain at his home between 7pm and 7am.
The judge told him: "This was an extraordinary stupid act."