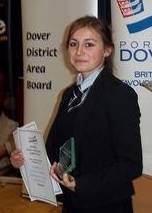 Dover College student Harrisen Cave-Palmer did Dover proud at the county finals of a Young Enterprise speaking competition this week.
Harrisen, a member of the college team Bespoken, won the Dover District competition and went on to the county finals at Tonbridge.
Although she didn't win there, she impressed the judges with her seven-minute speech on how social media and the internet have affected customers and businesses, and in particular what brands now mean to consumers.
At the Dover heat she competed against Laura Johnson representing SnackBack of Astor College, Kara Gardner of Stationberry from Dover Grammar School for Boys and Harry Vines representing Ship Shape from Dover Grammar School for Girls.
"The public speaking event is a useful preparatory experience ahead of the company programme final which will take place in April," said a Dover Harbour Board spokesman which is a major sponsor of the Young Enterprise project in Dover.