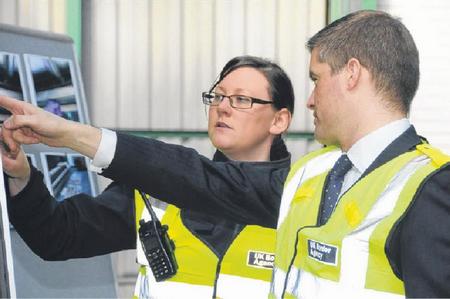 Immigration Minister Mark Harper has praised front-line officers at the port of Dover for the way they are tackling cross-border crime.
During a visit to the Eastern Docks on Tuesday, accompanied by Dover MP Charlie Elphicke, Mr Harper saw the range of weapons which Border Force officers use to combat drug, tobacco and alcohol smuggling and illegal immigrants, from the latest scanning technology to the tried and tested sniffer dogs.
He watched officers at work and was shown vehicles where illegal consignments had been found resulting in criminals being arrested, prosecuted and jailed.
"I have been very impressed," he said. "I have seen the volumes of freight and passenger traffic passing through Dover which is a very important port in the UK.
"I have also seen some of the big successes which the officers have achieved."
He was speaking the day after a woman from Wigan who helped her smuggler husband launder thousands of pounds of drug money was jailed for 15 months, after an investigation by the Border Force.
"They are doing some really good work at operational level and getting offenders put in prison which is where they should be," said Mr Harper.
"Keeping Britain's border secure is a top priority for this government, and Border Force officers at Dover are at the front line in stopping drugs, firearms and other harmful goods from reaching Britain's streets."

Full story in this week's Dover Mercury.