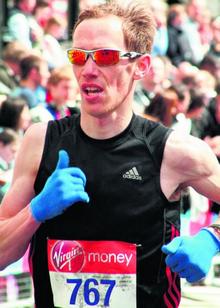 by Kevin Redsull
Former Deal Tri Club member Phil Anthony produced a stunning performance in the Virgin London Marathon on Sunday.
Running his first ever marathon, the 30-year-old Canterbury Christ Church University student finished 20th in a time of 2hrs 16mins 40secs, which is only 40 seconds outside the Great Britain 'B' standard qualifying time for this year's Olympic Games.
It left race officials and journalists scrabbling to find out background information on the former St Edmunds RC School pupil, who was the third British runner home in the massive field.
He admitted: "I was more surprised than anyone to be honest. I wasn't expecting to achieve anywhere near that time and it still hasn't really sunk in yet."
He has won a string of 10k and half-marathon events, but he had never attempted the 26 miles 385 yards of the marathon before the weekend.
He said: "After about 17 miles I was really starting to feel it but then I went into a sort of 'tunnel vision' and it was quite a weird experience.
"I was in a bit of a daze and I was just trying to focus on the road in front of me, but I got an incredible reception coming to the finish in The Mall."
Anthony, who lives at Ashford, is coached by Peter Mullervy of the Invicta East Kent Club and he said: "To produce that kind of performance is your first marathon is absolutely awesome."