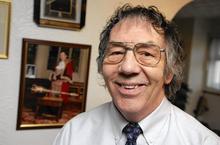 Former Dover Mayor Jim Hood has been re-elected, by a small margin of 23 votes, to represent St Radigund's ward on Dover Town Council.
Cllr Hood (Labour) polled 185 votes while Graham Morris, standing as an independent and non-political candidate, received 162 votes.
They were standing in the by-election on Thursday for the vacancy left following the death of another former mayor, Cllr Diane Smallwood.
There was a turnout of 9.73% from an electorate of 3,609, with 351 ballot papers issued.
Cllr Hood lives at St Richard's Walk, Aycliffe.