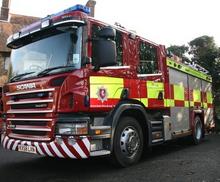 A new Dover pub landlord experienced an unwanted lock-in this morning - when someone padlocked his door.
The new manager of The First and Last pub, which is closed for building work, had to call the fire service at just before 7am.
The man found himself locked inside the East Cliff venue when he went to get on with some work to prepare for the re-opening.
Someone walking past, who might have thought the door ought to be secure, locked the padlock while he was inside.
Trapped inside, the man called for help and Dover firefighters let him out.
The landlord called the fire service again shortly afterwards - to thank them for their help.