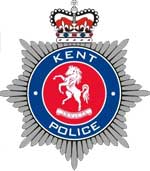 A man has been charged with three offences following an alleged armed robbery in Dover on Sunday.
Bryan Shearer, 29, of Old Park Road, Dover, is charged with possessing an offensive weapon, possessing a firearm and robbery.
He has been remanded in custody.
Police were called to the junction of Castle Street and Eastbrook Place at 7.30am on Sunday following reports that a motorist had been threatened with a gun.