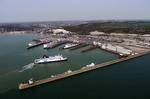 A man who fell overboard from a boat at Dover this morning is said to be safe and well.
The man slipped off a pilot boat but was rescued from the water within minutes.
A Port of Dover spokesperson said: "As the Pilot Launch went alongside a vessel departing Dover in order to take the pilots off of the ship, the bowman at the front of the vessel simply overbalanced during a routine procedure.
"On entering the water, his lifejacket inflated and he was quickly recovered without injury and the incident was stood down shortly after".