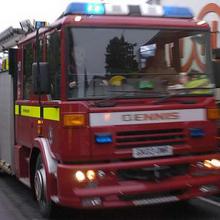 by Graham Tutthill gtutthill@thekmgroup.co.uk
A smoke detector and an alert neighbour saved the home of a young Dover family on Monday.
The alarm was raised just before 11am when a resident of Clarendon Road heard a smoke alarm sounding in a neighbour's three-storey terraced house.
When there was no reply to a knock on the door, the neighbour looked through the letterbox and saw the house was filling with smoke.
Two Dover fire crews attended and fire-fighters wearing breathing apparatus broke into the house.
They discovered that the family had gone out, but had left a pan of eggs cooking on a hob in the basement kitchen and it had overheated, creating a lot of smoke.
The fire crews used apositive pressure ventilation fan to clear smoke form the property.
This incident followed another cooking related fire in Douglas Road, Dover on November 15 when a chip pan caught alight after being left unattended when the occupant became momentarily distracted.
Watch Manager Antony Scott said: "Fortunately, no one was injured as a result of these fires, but both highlight just how important it is to take care in the kitchen. A moment's distraction can lead to disaster.
"Always keep an eye on what you are cooking, make sure you switch off all cooking appliances and remove pans from the hob after use."
"Working smoke alarms really do provide early warning to a fire in your home, significantly reducing the risk to your life in the unfortunate event of a fire."
If there is a fire, get out, stay out and dial 999.
For further free advice on fire safety call 0800 9237000 or watch the cooking safety film at www.standbyyourpan.com.