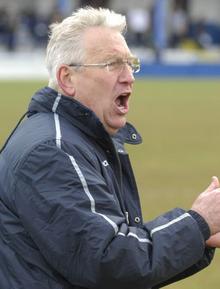 By Alex Hoad
New Dover manager Chris Kinnear says he has unfinished business at Crabble after replacing Nicky Forster at the helm – and that could involve winning the title.
After 10 successful years at the club, Kinnear left Whites midway through the 1994/95 season with the side struggling on the field in their second season in the Conference and Kinnear himself facing family issues away from the game.
The 58-year-old, however, returned to the club on Saturday, leaving Margate a day after Forster was put on gardening leave following five straight defeats for Dover in Blue Square Bet South which prompted an emergency board meeting.
Kinnear (pictured) revealed he was offered the position after a phone call from Dover chairman Jim Parmenter late on Friday.
He said: "We're in third but I know people have games in hand and we might not be in the same position when they have caught up. All we can do is try and win every game until the end of the season.
"I'm looking to the future not at the past. It's not about what I did the first time, it's about what I've done lately and I've been successful at Margate."
He added: "The season's not over. The players will want success now, so let's try and do it now. If we can win a load of games and win the league, brilliant. If not and we build for next year then so be it.
"I have a bit of unfinished business here. When I left before I just wasn't able to do the job due to some family problems. I had a couple of young kids to care for and I just couldn't give as much to the job as it needed."