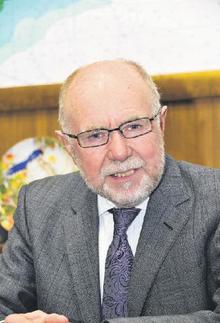 by Graham Tutthill
Proposals to privatise the port of Dover are virtually dead in the water.
That's the uncompromising view of Dover Harbour Board's new chairman, George Jenkins, who says there are no plans to submit a fresh application.
He is now looking forward to working with the port's partners, stakeholders and the community on driving the business forward.
But it also means that Dover will miss out on the millions of pounds of cash that would have come its way through the community trust that was part of the privatisation proposal.
Mr Jenkins, 65, took over as chairman from Roger Mountford on January 1 after two years as deputy chairman.
He had been appointed to the board in 2006 as a non-executive director.
A man who relishes a challenge, Mr Jenkins told the Mercury this week that the transfer of the port to the private sector was no longer an option.
"It is highly unlikely," he said. "There are no plans to apply for privatisation again."
And that means it will not become a people's port either, with Mr Jenkins saying he never could understand the benefits which those behind the People's Port Trust claimed their scheme would achieve.
He said: "I have every confidence in those who are running the port today."
The board's objective remained the same, he said. "To grow and add value to the port and the services we provide, to deliver the best possible service to the customers of the port and to have a seat at the table on the regeneration of Dover."
Full story and much more on Mr Jenkins' views in this week's Dover Mercury, out today.
Keep up-to-date with news via the Dover Mercury Facebook page and Twitter.