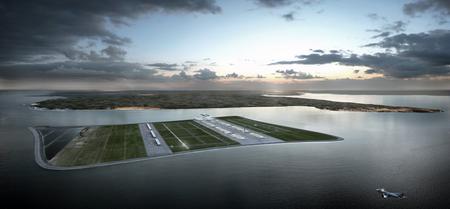 Ambitious plans for a £39billion hub airport off the east Kent coast have been revealed today - rivalling ideas for a Thames Estuary alternative.
Goodwin Sands, in the English Channel off Deal, is the location for the latest in a string of ideas for an international airport in the county.
Architects have drawn up plans for a four-runway airport for the 10-mile sandbank in a bid to solve London's aviation crisis.
It is hoped it would provide a massive boost to east Kent's economy.
The proposal has been welcomed by both engineering experts and the aviation advisor to Mayor of London Boris Johnson - who has previously heralded plans for an island airport in the Thames Estuary.
A government-commissioned report is examining if there could be a new hub airport in Kent or elsewhere in the south east - but the results will not be published until after the next election.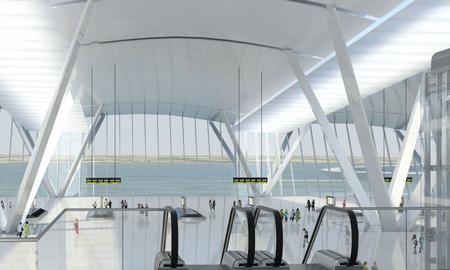 The latest plans come from London-based maritime engineers Beckett Rankine.
Its proposed four-runway airport would have a 40-minute high-speed rail connection to London, road access via the A2 and M20 as well as Eurostar connections to Europe.
Architects said, unlike a Thames Estuary airport, the plans are not for a bird breeding area.
The airport, which would operate 24 hours, could be built without demolishing any homes or wind farms.
Director Tim Beckett said: "We believe that an offshore hub airport is the only option that can realistically provide the four new, independent runways that research reveals London needs.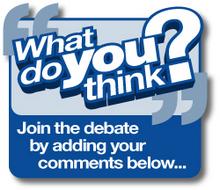 "If the Davies Commission endorses the long-term requirement for a new, four runway hub airport for London, then locating it at Goodwin will have the least adverse social and environmental impact of any option.
"It is certainly the most sustainable solution available. Creating a new airport for London presents a major regenerative opportunity.
"We believe that east Kent is an area that could benefit most from the boost of new jobs and economic uplift."
Antony Oliver, editor of New Civil Engineer magazine, welcomed the proposal.
He said: "Beckett Rankine has brought an intelligent engineering solution to the challenge of providing for the future expansion of London's runway capacity.
"Goodwin Airport is a solution that needs to be considered along with the Foster proposal and the expansion of Heathrow."
But Jamie Weir, Kent spokesman for the Campaign to Protect Rural England, said: "Many south east airports such as Manston currently have plenty of runway capacity, so why are new airport proposals being pitched on a daily basis?
"The question of whether we actually need fresh capacity is the one which needs to be answered before we start looking for sites.
"This proposal, like all of those in the Thames Estuary, fails to even recognise this. We believe that the UK government must prove the need for additional capacity before anything like this is contemplated."
"we believe that east kent is an area that could benefit most from the boost of new jobs and economic uplift..." – engineer tim beckett
Daniel Moylan, the Mayor of London's aviation advisor, said: "The mayor has been encouraging proposals for a new airport to the east of London and this proposal is welcome as a contribution to a critical national debate and as a demonstration that a new airport is feasible and deliverable.
"The arguments for the construction of a new hub airport in the UK are overwhelming and this proposal offers one option of how to build it.
"We now urgently need to recognise that a new hub airport is the answer to our aviation capacity problems and press ahead with considering the best way to deliver that airport."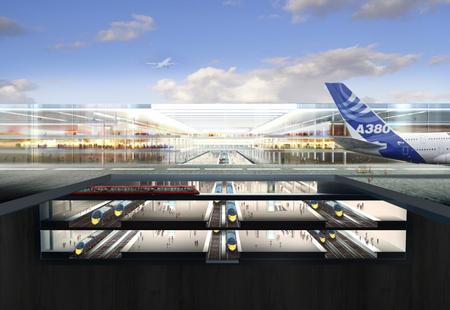 It is the latest idea for a hub airport off the Kent coast to offer a solution to ease pressure on Heathrow.
The most high-profile was a multi-billion pounds scheme to build a huge hub airport in the Thames Estuary announced last year by renowned architect Lord Foster.
It would be built on the Hoo Peninsula and would more than double the capacity of Heathrow - handling up to 150 million passengers each year, 24 hours every day.
The government established an independent commission to tackle the issue of the country's aviation capacity earlier this year.
Led by economist Sir Howard Davies, it is due to issue interim findings by the end of next year and a final report in 2015.