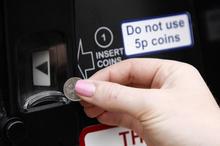 Plans to turn one lane of the York Street dual carriageway into a pay-and-display parking area are being considered by councillors.
The nearside lane of the southbound carriageway outside Maybrook House and Dover Discovery Centre could be converted into 23 bays.
Council officers estimate this would cost about £13,000 but could generate up to £60,000 a year in income.
Meanwhile organisations which ask for parking charges to be suspended while they hold major events will have to pay more in future, if proposals put forward by the district council go ahead.
In the past, it has cost £75 per application for the suspension of parking bays, regardless of the length of time or the number of bays involved.
Events when suspensions have been implemented free have included Dover Regatta, Deal Regatta and Sandwich Carnival.
But councillors are now being recommended to charge for all suspensions, and to increase the charge to £100 for each application for up to one week, another £50 for each additional week, plus £5 per bay for the loss of daily income.
Councillors are also being recommended not to issue three-month parking permits in future, and not to send reminders to people when their permits are about to expire.
For the full story see this week's Dover Mercury.