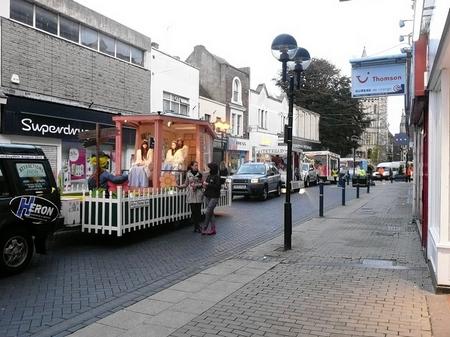 by Graham Tutthill
Organisers of Dover's illuminated carnival parade say they plan to hold a similar event in 2013 despite the lack of support this year.
It was organised by Dover Carnival Association following the success of last year's event when chairman Louise Scott said she would combine it with the Dickens Festival to make a weekend of autumnal celebrations.
Last year's procession was well received but it was a different story this time with some sections of the main street almost deserted.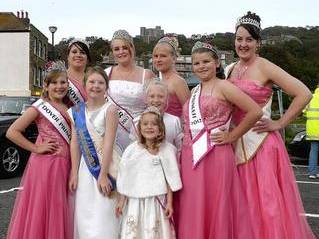 The programme included a Dickens Day at Pencester Gardens on Saturday and the procession through the town on Sunday evening.
The Dover Carnival Association court, a couple of singers, a refreshment van and a fire engine were the only attractions who turned up for the Dickens Day event and some streets were deserted as the illuminated carnival procession made its way round the town centre on Sunday evening.
But Mrs Scott and her daughter Grace who spent hours preparing for the events, say that although the response was disappointing they will go ahead with their plans for next year.
She said she was pleased with the turnout of carnival queens from all over Kent and as far away as Essex for the procession.
The parade consisted of 12 queens floats, the Hawkinge Flyers Majorettes, Sittingbourne Speedway and a representative from the Western Heights Preservation Society.
But when the procession turned into Castle Street it was virtually deserted, although there was a line of people in the Market Square and customers outside the Eight Bells cheered the floats on their way. But there was hardly anyone in the section of Biggin Street leading to Pencester Road.
Although there was a good crowd near the Town Hall and more people in High Street, parts of Maison Dieu Road were empty as the procession made its way back to Russell Street car park.
To add insult to injury, the visiting queens were subjected to the sight of a group of yobs shouting and swearing at a man who they were trying to goad into a fight at the junction with Pencester Road where some punches were thrown.
One or two girls tried to calm the youths down, but the situation flared again when some of the youths' friends sped to the scene on their bikes to join in.
The carnival procession was led by Miss Dover Julie Fitzpatrick, with princesses Frankie Limbrick, Leah Westwood and Sinitta Dighton, Junior Court Lilith Precious, Teagen Dickenson and Shannon Gaylor, May Queen Thalia Precious and Junior Guild Queen Honor Precious.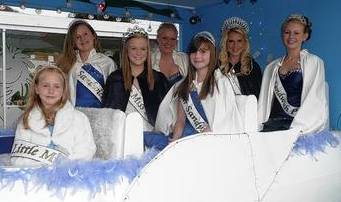 It was a particularly successful day for the Sandwich carnival court (pictured left) who won a number of awards including first place in the Princess Pairs and Junior Court of the Day, and second in Junior Princess Pairs and in Tiny Queen of Queens. Their float was highly commended.
Full story, and reaction from the police and the district council in this week's Dover Mercury.