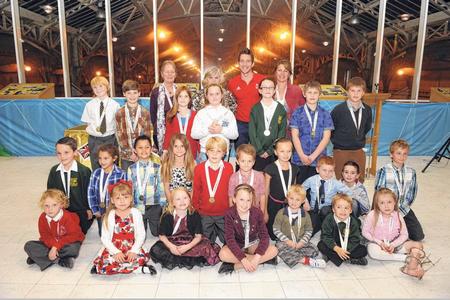 by Graham Tutthill
gtutthill@thekmgroup.co.uk
Awards have been presented to children, young people, teachers and community members for showing Olympic and Paralympic values through their commitment and enthusiasm.
More than 250 people attended the Dover district celebration event for the Kent Schools Pride Values Award Programme which was held at Dover Cruise Terminal.
Children and young people had been awarded gold medals by their schools for demonstrating one or more of the Pride Values over a sustained period of time and had proved to be outstanding role models for other young people to emulate.
Local children and young people who won gold medals at this summer's Kent Schools Games were also congratulated for outstanding achievements.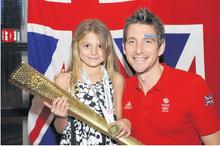 Among them was Darcie Cooper pictured (left) with Chris Cook, the British swimming record-holder and Beijing Olympic finalist, who was the guest speaker at the event.
Additionally there was praise for teachers who had been presented with gold medals for providing outstanding opportunities for young people to engage in a range of London 2012-related programmes and activities.
Over the past six years, Dover District's Pass the Passion project provided opportunities for youngsters to become involved with London 2012 through a wide variety of cultural and sporting projects supporting Dover's successful bid to host the Olympic Torch.
The event also launched Dover's Legacy from London 2012, with a collaborative commitment from Kent County Council and key local partners to the continuation and further development of the Pass the Passion programme.
Full story and more photos in this week's Dover Mercury and East Kent Mercury.