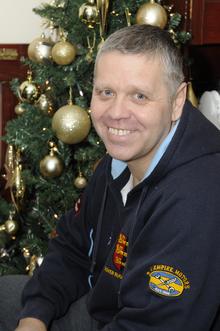 by Beth Robson
Vince Capon is enjoying Christmas more than most - thanks to his daughter who brought him back from the dead after his heart stopped beating in the middle of the night.
The proud dad, of Dunedin Drive, Dover, said he owes his life to 21-year-old Jessica, who relentlessly performed CPR for 30 minutes while the family waited anxiously for a delayed ambulance.
The student had qualified only weeks earlier as a paediatric nurse – but she never believed her first cardiac emergency would be her own father.
"Without my daughter I would've died," he said. She saved my life, I owe her so much.
"It could've been such an awful Christmas for everybody, but it's going to be great."
Mr Capon is now enjoying the best Christmas of his life as he recovers from the near-death experience on October 28.
Earlier in the day, he had been watching his son Jamie, 20, play rugby.
"I ran across the pitch and I got a sharp pain in my chest. All day after that I was continually coughing.
"When we came home that evening, Jessica looked up my symptoms on the internet and said something might have happened to my heart."
It was when he and his wife Bernadette, 45, were asleep that something woke her and made her check on him.
"My wife heard me gurgle in my sleep. She turned on the lights and I was laying there dead. My heart had stopped beating."
Active Mr Capon ties up ferries and tugs at Dover's Eastern Docks for One Complete Solution, plays golf three times a week and cycles to and from work.
But despite his healthy lifestyle, a blocked artery had stopped his blood flow
"i shook him and he wasn't responding. he had fixed pupils and no pulse. i thought he was dead..." – hero daughter jessica capon
with potentially fatal consequences.
"At 46 I never would have believed there was something wrong with my heart.
"Luckily Jessica was home from university. I had only collected her a few days before.
"The moral of the story is, if you've got something wrong with your chest, get it checked."
Jessica said she went into auto pilot: "I instantly knew something was wrong.
"I shook him and he wasn't responding. He had fixed pupils and no pulse. I thought he was dead."
The ambulance took 30 minutes to arrive but when they did, they attached him to an ECG and gave him a shock.
"I waited nervously because I know people can flat line. But his heart went straight into a normal rhythm and I could see condensation on his mask where he had started breathing again."
Mr Capon was put into an induced coma at the William Harvey Hospital, in Ashford, for a few days.
"When I woke up I was out of it for a few days," he said. "I couldn't believe what she had done.
"You put your kids through university and think 'how am I going to do it?'
"She has paid me back in one go. What a Christmas present!"