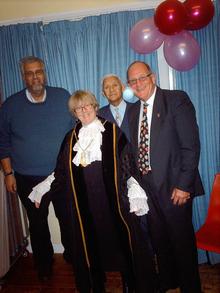 Eileen Rowbotham, Deal's deputy mayor, donned a historical robe at a special reception thanking volunteers of one of the town's museums.
Deal Maritime & Local History Museum trustees hosted the occasion at St Andrew's Church Hall.
Mike Eddy, secretary to the museum, said: "A lot of work has been done over the last few weeks by our volunteers to bring part of the museum's rear building into use as a gallery.
"The reception was to thank them for their work and explain the programme to our many supporters."
During the event, Cllr Mrs Rowbotham wore the robe, which along with a number of military uniforms, has recently been cleaned and is undergoing conservation.
Mr Eddy added: "The reception celebrated the re-opening of the museum for the 2012 season and looked forward to the 2013 season".