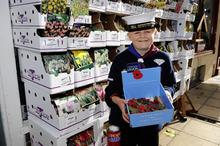 A little lad with a big heart has been praised after deciding to sell Poppies for the Royal British Legion in Deal town centre.
Mason Miller, 11, stood in the chilly weather and rain showers outside Maxted's Pet Shop in the High Street, raising almost £300 for the RBL appeal.
His mother Jodi Miller said: "I warned him it would be cold and miserable, but he was ready to go every morning. I am amazed, surprised and so proud.
"My sister Donna is a voluntary worker for the Legion. She mentioned about Poppies and Mason was interested in doing something to help, so asked if he could sell them."
The Castle Community College pupil is a member of 2nd Deal Sea Scouts and wore his uniform to stand with his tray of Poppies outside Maxted's, which Mrs Miller runs with her sister Donna.
Mary Eldridge, Poppy Appeal organiser for Deal and Walmer, paid tribute to Mason for his hard work .
She said: "I would like to thank him as he has done a fabulous job. He has been really good and raised £291.42 for the Royal British Legion.
"It appears that he thoroughly enjoyed selling the Poppies and it has been nice to see a youngster picking up the challenge and showing an example to others. Mason has been great."
* For full story and details about Remembrance Sunday services, see the East Kent Mercury and Dover Mercury, November 8.