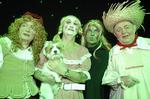 Wacky humour, colourful costumes and a big dose of nostalgia have helped make The Wizard Who's Odd a great success at the Astor Community Theatre, Deal.
Former Royal Marines are back on stage for their panto for the first time since the Walmer barracks closed in 1996 and have been playing to packed audiences every night.
The curtain goes up for the final time tomorrow (Thursday) and all tickets for the 10 performances were sold out - a total of 1,700 seats.
Former Royal Marine Brian Short, the panto's writer, director and creator, said: "It is the resurrection of a long held tradition going back to the 1930s.
"The pantomimes reached their zenith in the 1990s, running for a three week stretch in the intimate Globe Theatre within the barracks, before the government of the day decided to close the depot.
"Our main aim of this production is to raise funds for local charities and charities supporting Royal Marines currently serving in Afghanistan."
* For full story and a page of pictures of the cast see the East Kent Mercury, January 10, which also has details of where to buy the DVD of The Wizard Who's Odd.