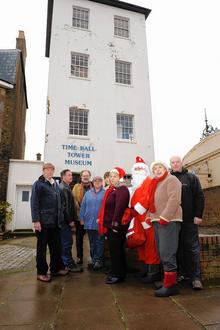 An appeal to help preserve Deal's iconic seafront landmark has been launched as volunteers and trustees face a big challenge to pay a £20,000 repair bill on the historic building.
Mike Carey, treasurer and a trustee at the Timeball Tower said: "We are a charity and we don't have that sort of money in our bank account. This is a desperate time for us and we are asking the community for help."
Last year the district council came to the rescue financially when the ball on top of the four-storey building crashed onto the roof. But the local authority, which own the landmark, now faces big budget cuts in its own spending.
Mr Carey added: "There has been serious deterioration of the exterior paintwork and rendering. The harsh marine environment and this summer's wet weather have hastened the flaking.
Trustees are hoping community groups could adopt structure or maybe organise fundraising event. Donations would be welcomed.
* For full story see page one and three of the East Kent Mercury, December 13.