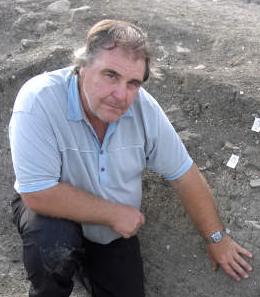 Five Saxon graves have been discovered by archaeologists at St Margaret's. The graves were unearthed at The Droveway by Keith Parfitt, of the Canterbury Archaeological Trust, who also discovered Dover's Bronze Age Boat 20 years ago.
Items found in the graves, including a warrior's shield, are now being cleaned so that they can be studied more closely. It is hoped they might be put on display at Dover Museum.
Mr Parfitt and his team had been called ahead of plans to build on the site and initial excavations indicated there may well be graves there.
A few weeks ago, before the builders moved in, the archaeologists carried out a more thorough excavation and found five graves. One was believed to have been that of an elderly woman where a brooch was found and another was of a warrior who was buried with his shield.
"The graves were quite widely spaced apart, unlike the Anglo Saxon cemetery which we uncovered at Buckland," said Mr Parfitt.
He will be talking about the discovery at the Christmas meeting of the St Margaret's History Society at the village hall on Tuesday at 7.30pm.
Admission is free to society members and £3 for non-members.
Society chairman Lea Oakley said: "We are delighted Keith has been able to talk to the society about these exciting finds so soon after their discovery."
Vice-chair Christine Waterman said: "St Margaret's has proved to be particularly rich in archaeology over the years. In the 18th century more than 30 Bronze Age barrows were recorded in the village and other Saxon graves have been found both in The Droveway and near Townsend Farm in the centre of the village."
The first speaker at the meeting will be Wendy Fraser, one of the society's archive volunteers, who will talk about the history of the St Margaret's Country Club, formerly an RAF camp and then a holiday camp, at Reach Road.
Miss Waterman will also be launching the society's new village archive website.
"This has been made possible with a grant from the Coalfield Regeneration Trust Bridging the Gap Fund and contains scanned images from the society's archive," she said.
"This is the first stage of the website project which will ultimately feature thousands of images of the village. Those atteneing the meeting will be the first to see the site."
Membership of the society costs £10 a year. Visitors are also welcome at the meetings.