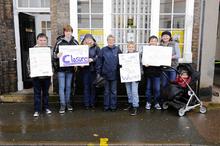 The Save Walmer Science College group is holding a public meeting on Tuesday (February 19) over the plans to merge the school with Castle Community College.
The meeting is at Deal Town Hall, starting at 7.30pm, and it is hoped Dover and Deal MP Charlie Elphicke, Labour's prospective parliamentary candidate Clair Hawkins and Liberal Democrat parliamentary hopeful Sarah Smith will attend, as well as the chairmen of the governors of both schools.
A public notice has now been issued over the proposed closure of Walmer Science College. Objections to the plan must be sent to Marisa White, area education officer, East Kent Education Office, Clover House, John Wilson Business Park, Thanet Way, Whitstable, Kent CT5 3QZ, by February 28.
Gillian Chiverton, of the Save Walmer Science group, said: "This important decision has not taken into account the proposed new housing in the area, the rising birth rate and the fact that this decision will deprive parents and children in Deal and Walmer of choice with regard to their secondary education.
"So please come along to the meeting and make your views known."