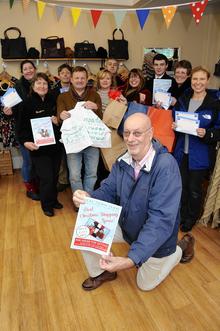 Shoppers spending money in Deal town centre in the run-up to Christmas can win a cash prize, thanks to a promotion just launched by the new Town Team.
Almost 40 businesses have already signed up for the idea, with more expected to join the list as the seasonal buying frenzy cranks up towards December 25.
Town Team leader Robin Green said: "A visitor to the town asked me if the people of Deal realise what an absolute gem of a high street they have.
"And I agree! So shoppers please stop and think: do I really need to go to Westwood Cross or Bluewater to do my Christmas shopping? Also more shops in Deal will be open on Sundays during December this year."
The cash prizes are on offer by spending money in certain shops and collecting the till receipts until December 23.
Mr Green added: "There are more than 80 small independent shops from one end of the high street to the other in Deal and that's a huge choice for residents and visitors alike.
"They are working together to enhance your Christmas shopping experience and together they will become a foundation stone for the new Town Team's work in the future."
There will be three prizes for the people who collect the highest number of receipts (or shopping tokens) from all the shops taking part. The first prize is £100 of shopping vouchers, as well as two further prizes of £50.
Full details of the Deal Christmas Shopping Spree can be found in any of the shops, so watch out for the Shopping Spree posters in their windows.
The Town Team has estimated that for every £1 spent with a local, independent business, between 50p and 70p is circulated back into the local economy. Its experts have also calculated that shopping online or out of town may save time but for every £1 spent, only 5p trickles back into the local economy.
* Deal Town Team was formed to win money in the Mary Portas national scheme to revive high streets. It is now continuing to work to improve the town centre area.