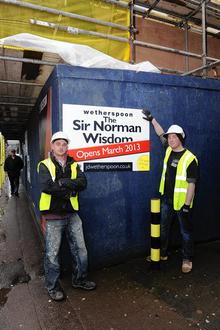 People power has won the day and Wetherspoon's new pub and restaurant in Queen Street, Deal, will now be called The Sir Norman Wisdom.
The company's original decision to call the business The Five Bells caused a huge dingdong and prompted a campaign in favour of naming it after the comic actor who loved his home town.
Wetherspoon spokesman Eddie Gershon said: "We can confirm that the new Wetherspoon pub to open in Deal on March 5 will be named The Sir Norman Wisdom.
"The company received numerous letters and phone calls from people in Deal on the subject, arguing effectively that the pub should be named after Norman Wisdom and his association with the town.
"We took on board those comments and those of a Facebook campaign in favour of the new name and agreed that the pub should indeed be named The Sir Norman Wisdom. We appreciate the time and effort that many people took in letting us know their feelings on the subject and are it is due to them that the pub name has been changed.
"We look forward to opening the pub and trust that the new name will be welcomed by people in Deal."
* For full story see the East Kent Mercury, January 31.