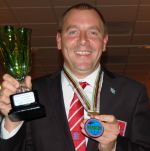 Richard Yates, from St Margaret's Bay, won an individual bronze medal at the CIPS World Sea Angling Championships in Holland.
The 36-year-old Deal 1919 Angling Club member (pictured) helped England to finish fourth in the team competition and also in the team was Deal's Saul Page who finished 18th in the individual event.
The individual gold medal went to Alan Price of Wales and runner-up was Mohamed Larbi from Tunisia.