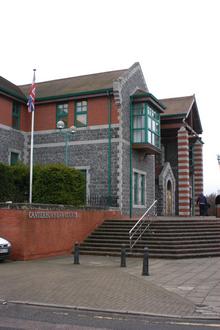 by Dan Bloom
A night of terror fuelled by cocaine, ecstasy and alcohol saw Callum Slesser slash three people with a Stanley knife.
Now the 21-year-old has been jailed for seven years after his victims said they were losing sleep and afraid to leave the house.
In the worst attack, victim Robert Muir was left with permanent scars from knife wounds - including one down the length of his back.
A court heard Slesser, of Prescott Road, Guston, was with friends
outside the Roman Quay pub in Dover town centre in the early hours of February 25.
One of the group shouted "what?" at college student Yusif Zouilik and his friend Elliott Woodison as they walked past.
A heated argument began, the court heard, and without warning Slesser drew out a Stanley knife and slashed at Mr Zouilik.
His hand was cut as he raised it to his face and the other men knocked him to the ground and started kicking him.
Mr Woodison tried to intervene but Slesser lunged at him, slashing the shape of a cross into his left cheek.
When the frenzy ended, Mr Woodison realised he also had suspected knife wounds on his lip, right cheek, head, hand and neck.
Just two hours later, Slesser - who was by this point with brothers Dean and
"he heard shouting... 'slash him, slash him', and felt something running down his back which seemed to be warm..." – jim harvey, prosecuting
Dan - attacked Mr Muir near the Eight Bells pub after he got into a row with Dean.
Jim Harvey, prosecuting, said: "He heard Dan Slesser shouting out 'slash him, slash him', and felt something running down his back which seemed to be warm."
Mr Muir needed several stitches for the wounds, including surgery for a long cut down the right side of his chest.
Slesser pleaded guilty to two counts of wounding, one of wounding with intent to cause grievous bodily harm and one of possessing an offensive weapon.
His mother wrote a pleading letter to Canterbury Crown Court, where several family members watched as Judge Heather Norton heard Slesser had a good record.
Oliver Saxby, defending, said: "He finds it hard to accept that he has done it."
But Judge Norton said: "Those who go out on the streets with knives that
are then used to inflict injury can and should expect serious consequences."