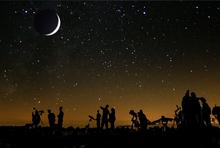 People who have been inspired by the BBC television series of programmes on stargazing are being given the chance to study the skies above Samphire Hoe on Saturday.
Members of the South East Kent Astronomical Society will be at the Hoe from 6 to 9pm to inspire budding star gazers to enjoy the night sky.
Experts will be on hand to explain to visitors what they are looking at, and there will be telescopes available to help view the night sky. People can also find out about different types of equipment and how it works.
Paul Holt from the White Cliffs Countryside Partnership said: "This should be a really good event we have all got our fingers crossed for a clear night.
"It will be cold so wear warm clothing and bring a torch. If you have binoculars and telescopes bring them along too."
The event starts at the site management office at Samphire Hoe. For more information call 01304 225649
The South East Kent Astronomical Society meets regularly and information about events is at
www.sekas.co.uk