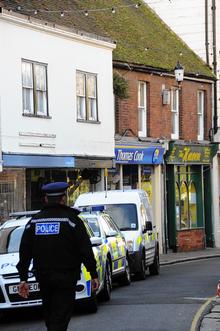 Staff at a business in Sandwich were left shocked this morning (Monday) after two men carried out a robbery at a travel agency.
They were wearing high visibity tabards for the raid, at Thomas Cook in King Street.
A police spokesman said: "They went into the business at about 9.30am and demanded money, threatening the two members of staff with a gun.
"After money was taken the two men walked out of the travel agency towards Short Street.
"The men are described as black and one taller than the other. It is believed that they were in the area near the business for some time prior to the robbery.
"The staff members were left very shocked by the robbery and one of them, a woman, was taken to the QEQM Hospital in Margate for a check up."