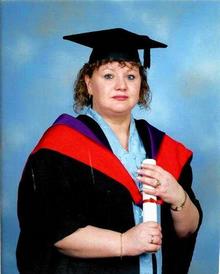 A college tutor who devised a course to help young people to learn has died.
Anna Hornsey, who was 51, had been suffering from cancer and died in the Pilgrims Hospice on Thursday last week after being taken ill again just before Christmas.
Many youngsters in Dover have reason to be grateful for her help at South Kent College and K College.
Mrs Hornsey was married to Alan in 1988 and they had three sons – Michael, Richard and James – to whom she was devoted.
Born in Wales, she went to schools in Wales, Germany and Nottingham before joining Dover Grammar School for Girls when she moved to Dover with her parents Marilyn and Geoff Smithard, sister Amanda and brothers Mark, David and Peter. The family also lived in Walmer for a while.
In her mid-40s Mrs Hornsey returned to education, graduating from Christ Church University College in Canterbury with a degree in travel.
In 2003 she was given an individual award for her work as part of adult learners' week.
She then became a tutor at South Kent College, where she set up a teaching programme for youngsters who needed help with core subjects. In 2008 her students, taking a level one travel and tourism course, were praised for the quality of their work by independent education and training consultants Scope.
Dr Graham Lewis, from Scope, said: "I see 240 other courses across the country and the course at Dover is one of the best.
"In terms of what we call 'added value' – that means how far the student has come in both attitude and education – they have taken great strides in a very short time."
Dr Lewis praised Mrs Hornsey for inspiring her students. Mrs Hornsey's teaching programme was subsequently adopted by other colleges.
K College deputy principal Alison Monk said: "Anna was a well loved and respected member of staff. She was mainly found in Folkestone and Dover, always busy with preparations for new ideas for her learners.
"Her colleagues will recall her chasing them up for paperwork or to give evidence opportunities for basic and functional skills. She was passionate that her learners should enjoy and succeed. Woe betide any of us who didn't put the learners before all else.
"She had a particular interest in the community of Dover and played an active part in finding ways to engage young people in education and training. Anna was a lovely, vibrant and extraordinary colleague and friend to many. She will be missed by her friends and students. Our sympathy goes to her family of whom she often spoke and were so important to her in her long fight with illness."
The funeral will be at River Parish Church next Thursday January 10 at 3pm. Mrs Hornsey had asked that people wear bright clothing.
Donations in her memory are being made to the Pilgrims Hospice, Canterbury, via undertakers W.J. Farrier and Son, 161 London Road, Dover, CT17 0TG.