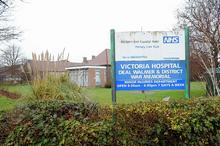 Deal Hospital is back to normal after a bout of the winter vomiting bug norovirus forced the closure of Elizabeth Ward for 17 days.
It was reopened last week to new patient admissions and was shut following nine cases of the highly contagious condition.
Kent Community Health NHS Trust's deputy head of infection control Lisa White said: "Infection control measures were put in place and the ward was closed to new patients as a precautionary measure, which successfully prevented the virus from spreading to other parts of the hospital.
"We would like to remind anyone who might be feeling unwell or experiencing vomiting and diarrhoea not to visit friends and family members in hospital for at least 48 hours after they are free of all symptoms."
* For full story and NHS information about trying to avoid catching the bug, see the East Kent Mercury, January 10.