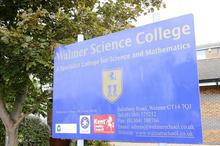 A full-on battle to improve teaching and management standards has begun at Walmer Science College after it has been placed in special measurers.
New managers have been drafted in to run the school after a damning Ofsted inspection highlighted areas of concern in June.
Head teacher Simon Heaton has now left the school after taking a period of authorised absence since the inspection on June 8 and 9.
Parents are being informed by letters, which were posted out on Thursday evening (July 7).
Ofsted's report has not been published, but the new executive head and head of school have already begun tackling inspector's areas of concern.
"It is already a different school to when we had the inspection," said school's new head teacher, Julia Scannell.
"That school ceased to exist."
Walmer Science College has been given two years to improve standards.
Mrs Scannell said: "We think we can do it in one year."
A new head of Governors has been appointed and two new governors have joined. They will meet early next week before a meeting of the parents on Wednesday night at 7pm.
To see the full story, see next week's East Kent Mercury.